I had read Steinbeck's Travels with Charley and was disappointed with his ability to actually connect with people.  William Least Heat Moon had little trouble making connections with most people and did a complete and entertaining recollection of his travels in his book Blue Highways.
I started this book three times before finally finishing it.  The first time I started reading it as just any other book.  I quickly realized I wanted to understand where he was in his travels of the US.  The second time I started I had my tablet handy so I could access on-line maps.  Yet even that was not satisfying.  The third time I opted for a paper map of the US from AAA.  Now I could track his route and make notes.  (note 1) By the third time I started this book, we had sold our house and hit the road so his insights seemed much more relevant.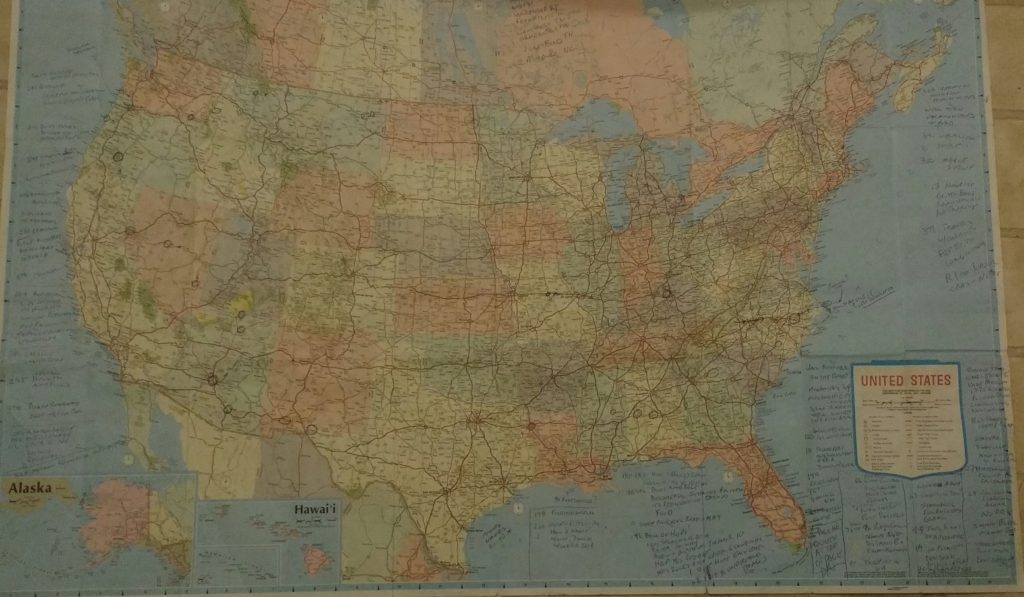 On February 17th he learned that his job teaching English was not renewed. With marital problems also on his mind, he felt that little was going right and that maybe the best thing would be to just go.  By March 19th he was ready and climbed in his 1975 Ford Econoline plumbers model van, as he describes it, his "wheel-estate."
Like any escapee he needed some distance so he headed out on I-70. After he had a couple of states in his rearview mirror, he drifts onto one of those blue highways.  Blue highways are those roads shown blue on the old maps – the ones that pass through towns rather than around them.
It's hard to summarize all of the varied people and places he encounters and some of the more interesting things that some people do.  Here is a sampling
The crew rehabbing an older house that turns out to be a pioneer log cabin
A man building a metal house boat in the hills for him and his wife to retire on.
Do you know the difference between moonshiners and bootleggers?
He finds Trappist monks in the heart of Georgia.
A Hopi student studying to be a doctor is ok adding western ideas and methods to help his people.
In Nevada, prostitution is legal so every little town has a whore house. Stopping for a beer comes with a solicitation, "Dances with ladies 50 cents!"
A traveling preacher/hitch-hiker has all of his belongings in a small case showing him that you can travel even lighter than he does in his van.
And then there are his many, unique observations
Find a better restaurant? Count the calendars.  The more calendars on the wall, the better the restaurant.  Your average interstate chain has no calendars.
Unlike Steinbeck he found traveling without a dog to be more social.  He had to talk to people.
Where are you going?  If you don't know you can't get lost.
"When you're traveling, you are what you are right there and then."
Traveling miles and miles in North Dakota he noted that, "Boredom lies only with the traveler's limited perception and his failure to explore deeply enough."  That miles and miles of nothing is not really nothing – it's your inability to see the something in the nothing.
There are two kinds of adventurers.  Those actually seeking adventure and those that say they want adventure but really don't want it.
Blue road rule – Be careful seeking adventure, it's ridiculously easy to find.  We know that from our own experiences.
He noted that traveling in the north east is crazy.  After spending months out west I would agree with him.
He meets people and towns still that have continuity with the past.  There is the couple still trekking out to get water from the common source down the road.  There are many small cafes and restaurants cooking real food.  And entire towns that have that look of being preserved from decades past.
Yet change is also woven throughout the book.   He meets older people looking towards retirement and nearing the ends of their lives, younger people with lives in transition, general stores hanging on by a thread and towns swept away by the sands of time.  When he was looking to reconnect with a piece of his own past in Newport, RI, he discovered those gritty bars from his navy days were gone, replaced by upscale cafes and shops for tourists.
His narrative of so many places and people continues right to the end and after several months he is home again.  He has running commentary as he travels but there is no grand summary of everything he has seen and done.  I was somewhat disappointed by this because it forced me to reflect on his many experiences and relate them to my own.
If you have to choose between Travels with Charlie or Blue Highways, choose Blue Highways.  It is more entertaining and just might have you thinking of hitting the road to find that four calendar restaurant.
==========================================
1) In 2019 I found a website with his journey mapped out with additional links here.