When we were planning to hit the road, we knew we wanted to be able to cycle along the way. Mrs Ram already had a nice hybrid bike, a Canondale Quick, that was perfect for the riding she did. (I love my bike.)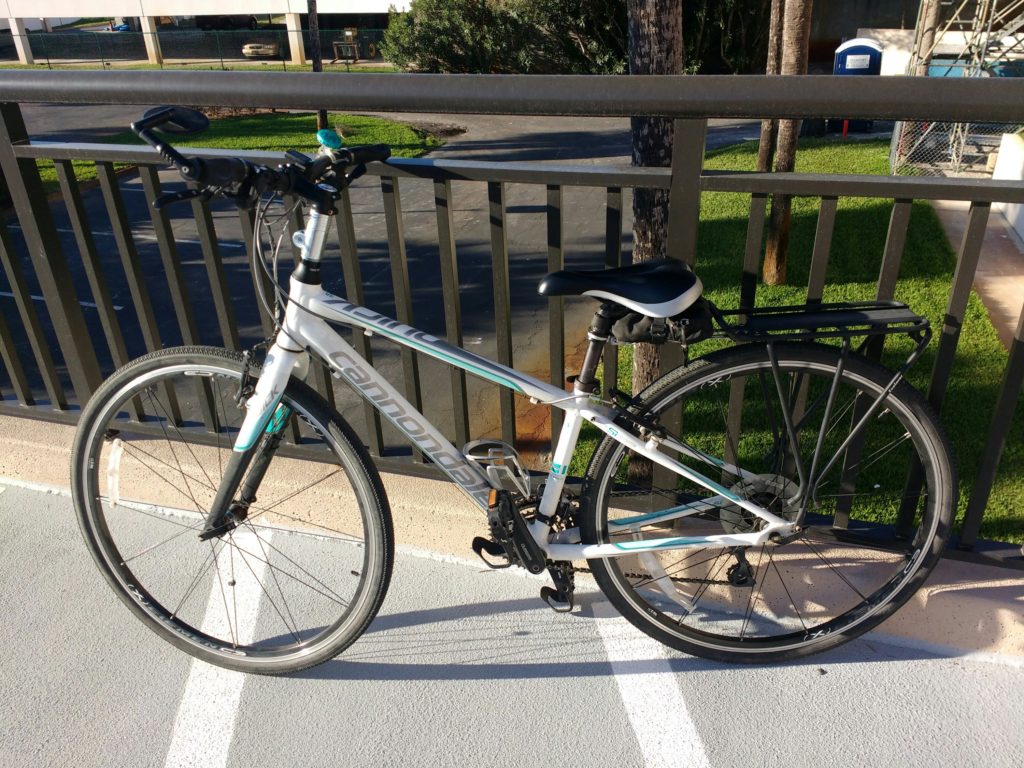 I however did not have the right bicycle. I had 4 bikes: My go fast bike, my go anywhere bike, my leave it anywhere bike and that other bike. The first three each filled a purpose, the other a left over. Only one bike could go with me – and none of them were the perfect one to be put on the back of the van. I wanted a bike I could ride on the road as fast as I could. Anyone who has ridden with me knows I like speed – especial that free speed you get on a downhill. I wanted a bike that I could ride pleasant bike paths on with Mrs Ram. Sometimes where we want to go is not always paved so my bike would need to take on dirt, gravel and grass as well.
Go anywhere bike. This was a Schwinn mountain bike – one of the good ones made before they became a Walmart staple. Sure it could take on the bike trails, both paved and unpaved. However speed was not part of its nature.
Leave it anywhere bike. This steel framed Mercier road bike was old when my friend Steve picked it up at Goodwill nearly 40 years ago. I had replaced lots of parts, some more than once, and not everything worked quite right. It was no longer a good looking bike but it would get you to the train station and be there when you got back. And if it wasn't there it was not a great financial loss.
Go fast bike. That carbon-framed Super Six was light and could go really, really fast – and far too. It carried me for a three day, 300 mile trek across all six New England states. Serene bike paths and dirt were not its cup of tea.
That other bike. My old road bicycle – a steel framed, 105 Marin Verona road bike. This was the one I was least likely to ride since the SuperSix was faster, the Schwinn was more durable and Mercier was less likely to get stolen.
So what to put on the back of the van for occasional riding while traveling? None of the bicycles I owned really fit the bill. Before we sold the house I concluded I needed a cyclocross bike. However getting the van ready, avoiding the winter, and clearing out and selling our house left little time for new bicycle shopping. As the house emptied, Mrs Ram listed and sold the Schwinn on Craigslist. The Mercier was sent to her brother for rehabilitation. That nice carbon framed Supersix found a comfortable spot in our storage unit – a place far from the rain and dirt on the back of our van. Our house sold and there was no new cyclocross bicycle. The only thing left was that other bike – 17 years old with nearly 11,000 miles on it. That Marin found itself strapped to the back Sparty racking up lots of miles both on the road and on the van.