We had stopped at REI in Framingham MA to look for water bottles and socks.  We started talking with one of the specialist's, Dano, and the conversation turned to minimalism and living in a van.  Dano had a van himself and was familiar with shedding most of his possessions.  Though his storage unit did not make the hit show Storage Wars, it did end up being auctioned off.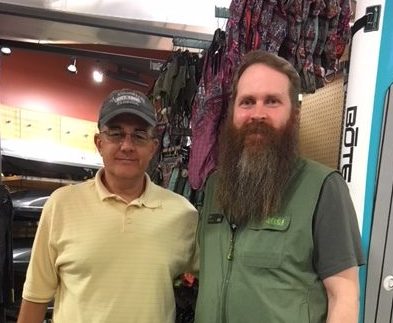 Dano mentioned that he was looking for input on van life and minimalism for some writing.  We can certainly help out out the van life portion.  As readers here know we travel and live in our van Sparty a good portion of the year and have been right-sizing and reducing the number of possessions that travel with us.
We are less certain if we can help on minimalism.  Yes, we have limited storage space which has forced us to think about every items we carry.  However, I suspect a number of items that we carry would give a true minimalist a good laugh.  Having a couple of guest plates, knives and forks might seem reasonable.  However we also carry two bikes, two sets of golf clubs, two fishing rods, six pillows, three (or so) bottles of liquor and 5 pairs of shoes each.  And if we have just stopped at a winery, a number of bottles of wine too.
Not to mention we are trying to figure out how to squeeze a tandem inflatable kayak in as well.
So if minimalism can include a variety of things including liquors and wines, then we are minimalist…or drunks.  Yeah, I am going to go with minimalists.