A Florida friend's niece's husband's father played drums in the ET Swing Band in Florida. They play on Tuesday evening during the winter at the "World Famous" Oasis. We were impressed with the quality of the music and that he was continuing to play drums when he was over 90. The place was packed and we ended up sharing our table with several other people.
We learned that he had served during World War 2 in the Merchant Marines and had written a book, Torpedoed for Life. He had a copy with him that we bought.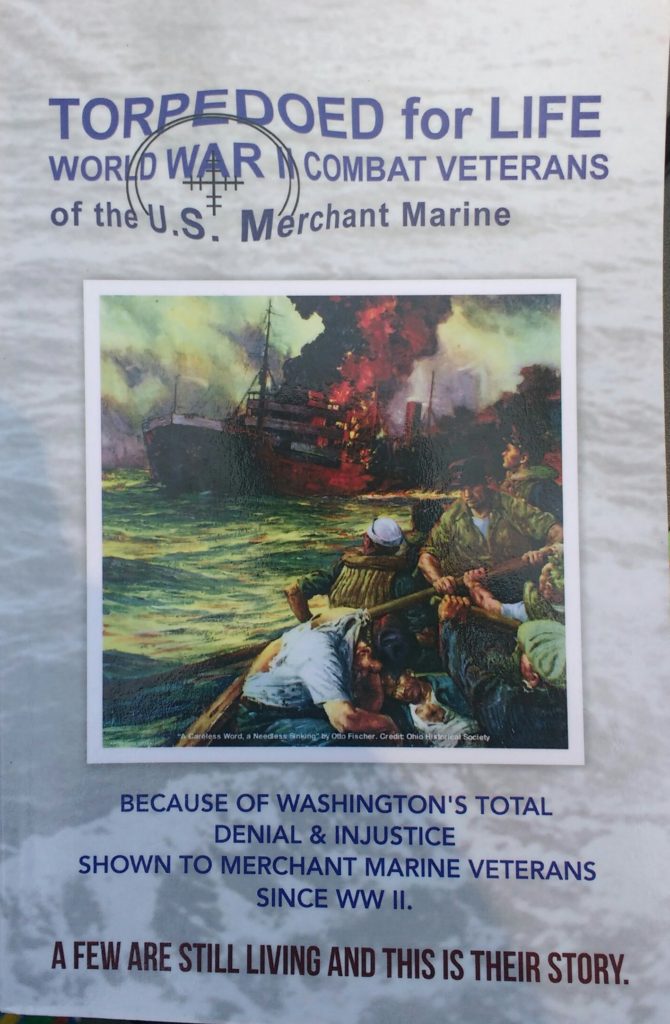 Like the book on the FloraBama bar, this book has a number of interesting stories. While filling us in on the service and experiences these Merchant Mariners had, it also details the lack of support they received both during and after the war .
As Merchant Marines they were technically not in the military but were under the control of the War Shipping Administration. The Navy oversaw their operation and it sounded as if many if not all of the Merchant Men were in the Navy Reserve. The ships provided support to military operations around the world before, during and after the war.
One of the most haunting accounts was of the internment and harsh treatment of all POWs including merchant marines by the the Japanese. Stories of forced marches, eating whatever was available including kittens, and rumors of their captors choosing POWs to be eaten was disturbing. Pictures of emaciated POWs could not be unseen.
This book shines with several personal accounts of Merchant Marines courage and misadventures during the war. During the critical resupply of allied forces on Malta, Merchant Mariners Third Mate Larsen and Midshipman Dales volunteered to board the in-tow, disabled ship SS Ohio to repair and man its guns during attacks.
Another account tells how two Marines got left behind while they were bartering for a pineapple. With the help of the mine manager they are able to get a local bus and catch up to their ship at it's next stop.
Like other self published books, there are rough edges, repeated items and references that were hard to decipher. Accounts of Guadalcanal battles and the Murmansk Run would have been clearer if a map had been included.
The author makes a case for compensating those that served as Merchant Marines. The men received no pay when 'off ship' including being captured and no significant recognition after the war for supplying the material needed to defeat the axis powers.