The campground we chose for our the second part of our Massachusetts stay is one of the few within an hour of Boston. Normandy Farms is 15 minutes from our old house and just down the street from Gillette Stadium. This is not a typical spot for us like our stays at Walmart's, on forest service roads and campgrounds with pit toilets.
Many sites have full hook ups and are typical of an RV park with drive thru sites next to each other. Though some are quite close together, others like the one we had for most of stay gave a wooded view.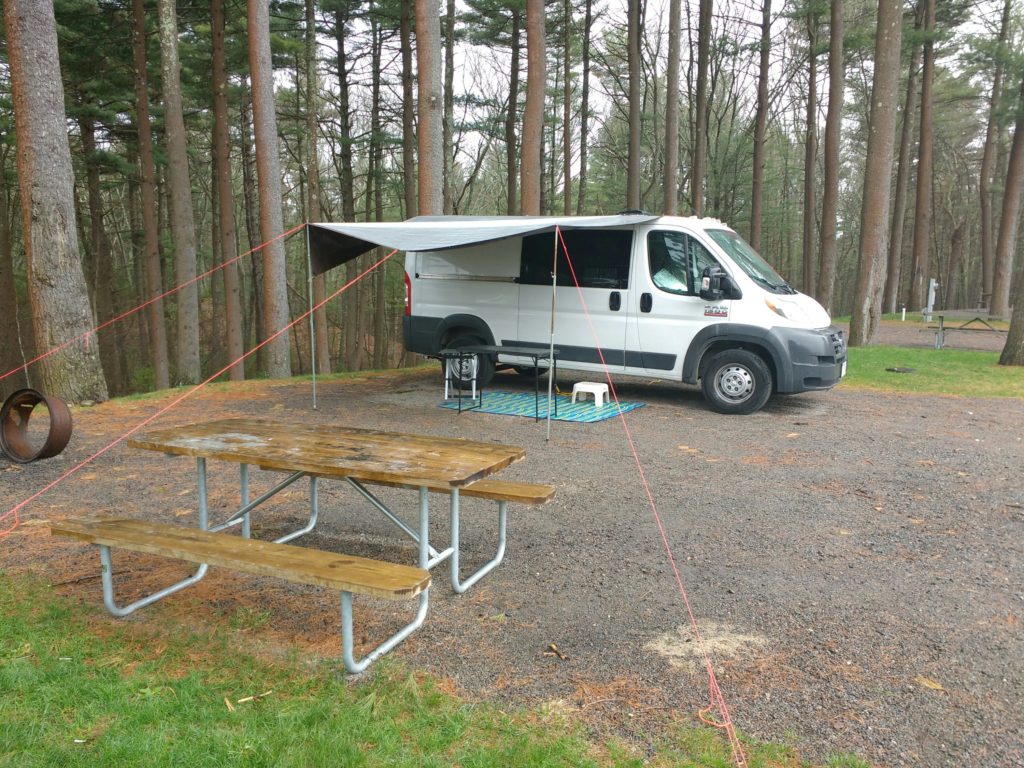 The primitive sites are farthest from the entrance and are wooded. Our primitive site, O20, was closer to the next sites than we usually like. In the future we would choose a lower numbered O-site. WiFi was available through out the park. It worked well most of the time. When we had the van closed up with our reflextix in the windows, the WiFi was less consistent. Sites also have cable – we do not have a TV so cannot comment on that For most of our stay we had power and water.
The facilities at this camp ground are excellent. There were hot showers with plenty of hot water – no cois needed. Bathrooms with flush toilets were very clean. Laundry facility worked well though the washers are smaller. The rec center has an adult only loft with fireplace as well as an Indoor pool and Jacuzzi. There are out door pools as well but they do not open until Mothers day. There was a printer and coffee at the welcome center.
This campground is convenient to a Stop and Shop grocery store as well as a Home Depot and Bass Pro Shop.
During the week in May there are plenty of camp sites and showers are not crowed. On weekends be prepared for a nearly full campground and an occasional wait for a shower if go at the wrong time.
Besides the usual RV and tent sites, there are three sided shelters, cabins and yurts. Want to stay but do not have a trailer? You can rent one for $100 a night plus site fee.
Overall this is an excellent campground with fantastic employees and by far the best campground we have stayed at.