We had brought our kayaks specifically to kayak in the beautiful glacial lakes at the Grand Tetons.  Though its a little more effort for our van Sparty, he seems to enjoy having what I call his "hunting hat" on.  That bight orange topper means he is not mistaken for a deer or plumbers work van.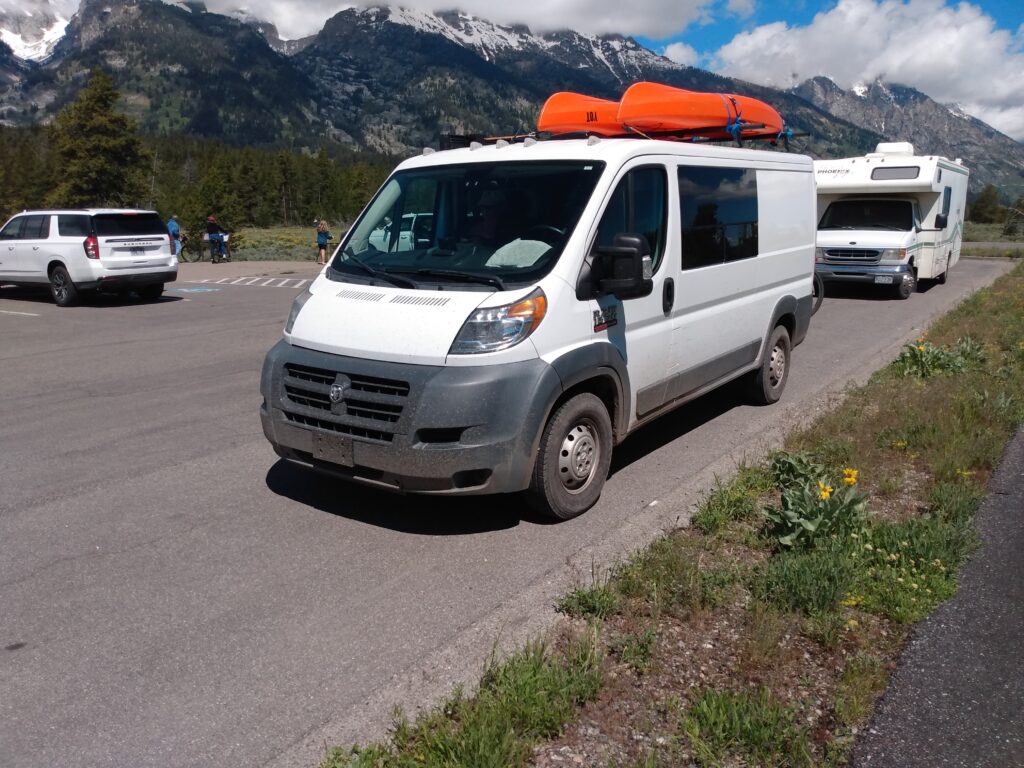 Since our kayaks are not motorized we did not think that we needed to do anything other than drop them in the water and start kayaking.
When we crossed into Wyoming there was a sign that said all vehicles with watercraft must stop.  We rolled in a little before 8 pm.  The officer asked us some questions about the last time our kayaks were in the water and she took a quick look at them on the roof.  We were then issued a certification that our kayaks were OK for Wyoming waters.  That was easy and free.
When we entered the
Grand Teton National Park
there was another watercraft inspection station.  After checking our kayaks, he asked about our Wyoming inspection and then wanted to take that certification.  We declined that offer and he said he could make a copy of it instead and returned the original to us.  He also told us that we would need to get a permit from the park to put in the kayaks.
A stop at the permit office and the ranger informed us not only did we need a Park Kayak permit, we needed a Wyoming kayak permit.  $70 later we had paid for all of the permits for our two kayaks.  They handed us the National Park Permit and we put it on our kayaks immediately.  Of course the Wyoming sticker would be sent to our mailing address in Massachusetts.  It arrived there a few weeks after we left the park and we received it in Sedona a month later.
As a tourist state, Wyoming has to figure out how to milk tourist for as much money as possible.  I should not say much since Florida has that "draining money from tourists" thing down to a science.
I hate to say we thought about not buying the permits.  Who will notice?  We could slide our kayaks in, run about the lakes and be out before anyone will notice.   We knew our conscious would not let us do that.   When we stopped to check out the landing there was a ranger right at the landing checking for permits.
We asked the ranger when the parking lot fills up.  He said there are days that you can't find a spot by 8 am.  Other days there seems to always be spot available.  We feared the worst so we we up at 6 and at the parking lot before 7.  There was only one other car there so we got a space close to the lake entry.
Since we bring everything with us, we then just set up and cooked breakfast in the parking space while others arrived and headed to the water
String lake was a beautiful and clear.  We could easily see the bottom.  It wasn't until our return trip that we realized many parts of the lake are only a few feet deep.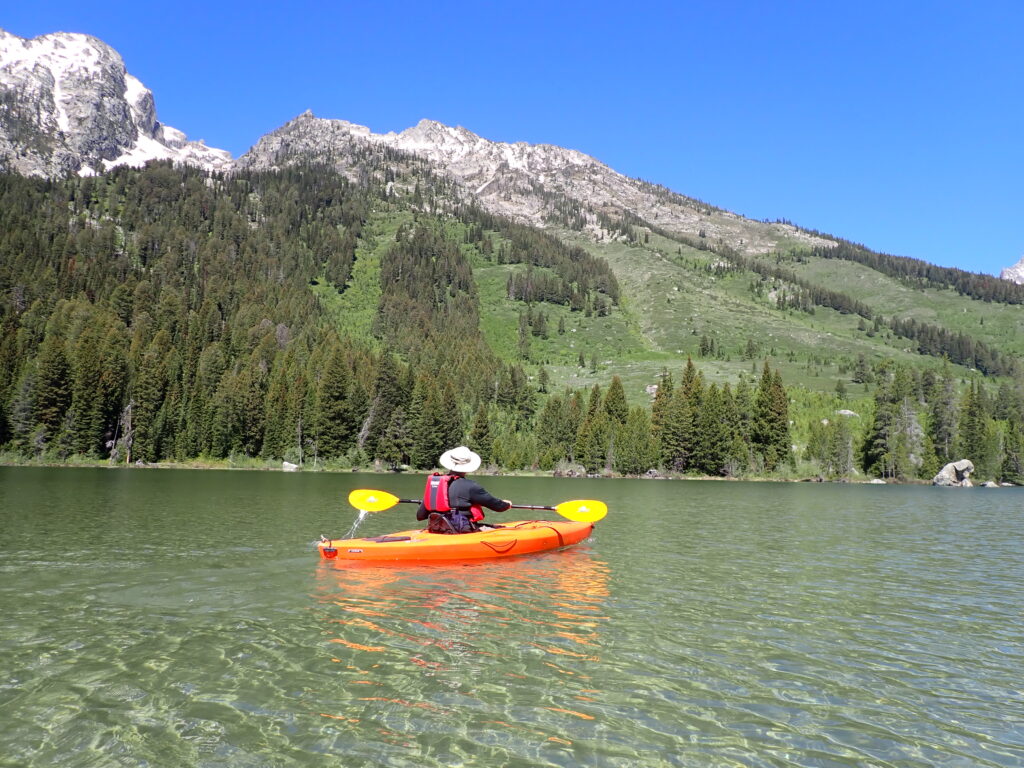 We knew we had to portage to Lehigh Lake but we had accepted responses such as "Oh its not that far."  It turns out its about 230 yards (measured on Bing Maps)… uphill.
We were optimistic at first.  We can carry them.  But after a short distance it was clear that we couldn't.  However the trail was dirt so dragging was our next option.  That did get us there.  Then it was down a flight of wood stairs to the water.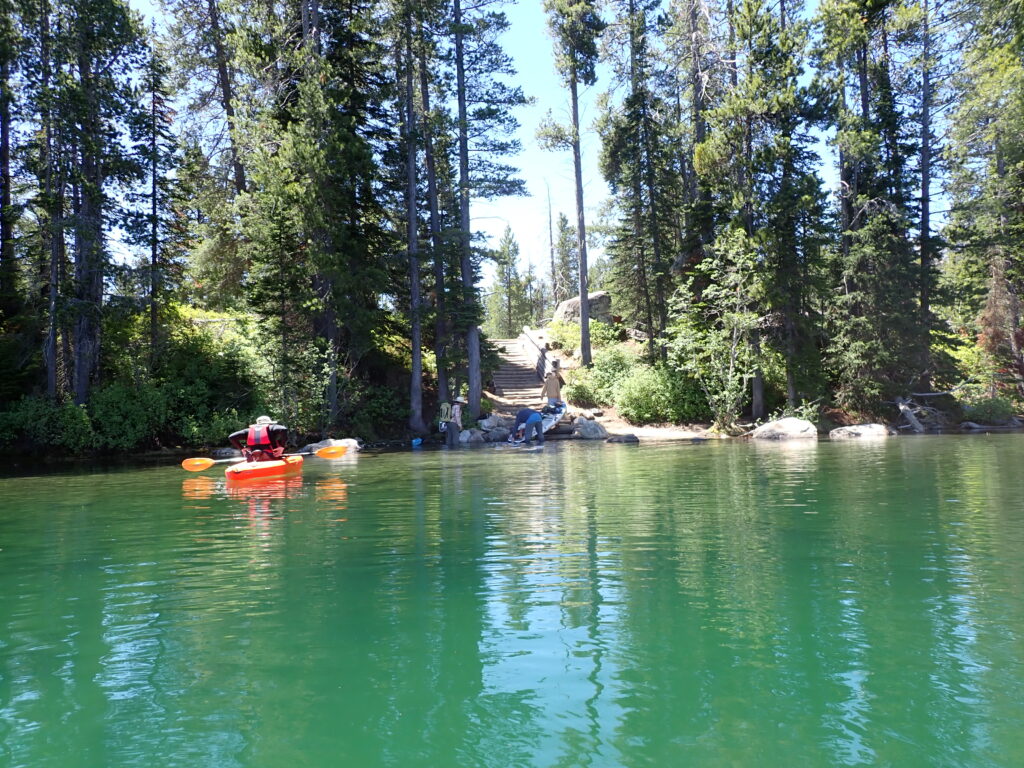 It was wonderful to get into Lehigh Lake, so far from civilization.  Of course civilization sometimes resists and follows you.  For a good part of our kayak in Lehigh we could hear the cry of chain saws as trail crews were doing maintenance on the trail around the lake.
We were about 2/3 of the way across the lake when Mrs Ram could clearly see the weather and wind were turning.  Mr Ram should have seen it too but was fixated on kayaking close to the spot where water flows into the lake.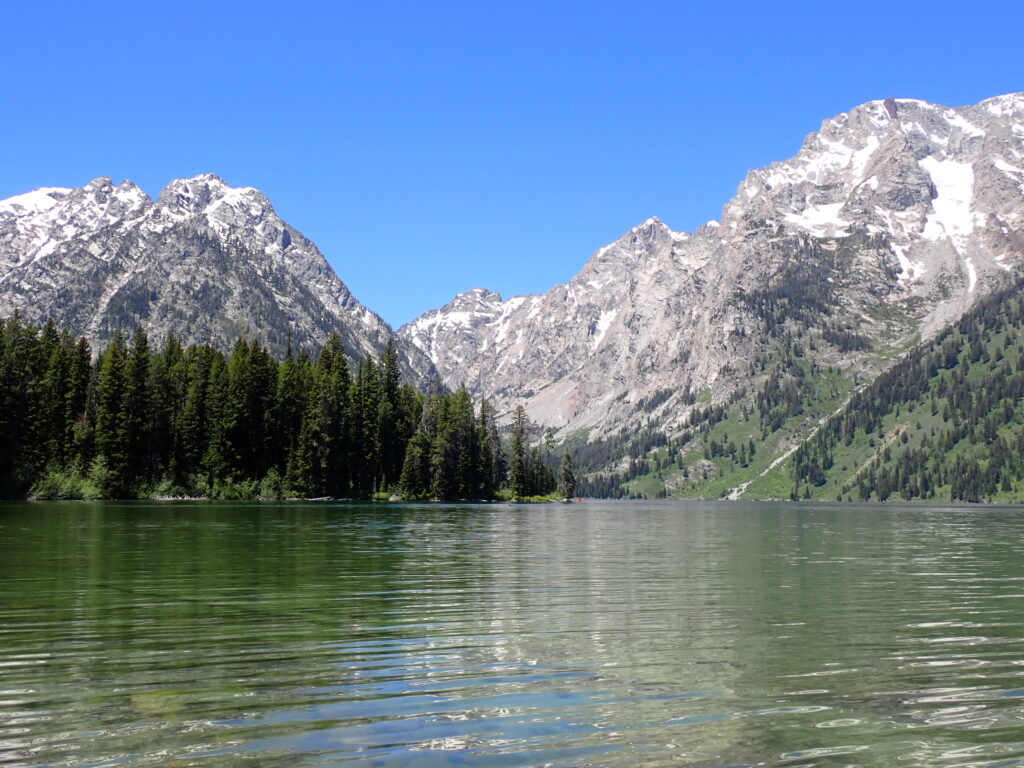 Eventually we both headed back, into the now strong head wind.  Then up the stairs and down the 230 yard Portage back to string lake. (Fortunately it was not uphill both way.s. A hiker named Denis offered to help with Mrs Ram Kayak and she quickly agreed to let him drag it back to String lake.
These are beautiful lakes and definitely worth carrying kayaks across country.