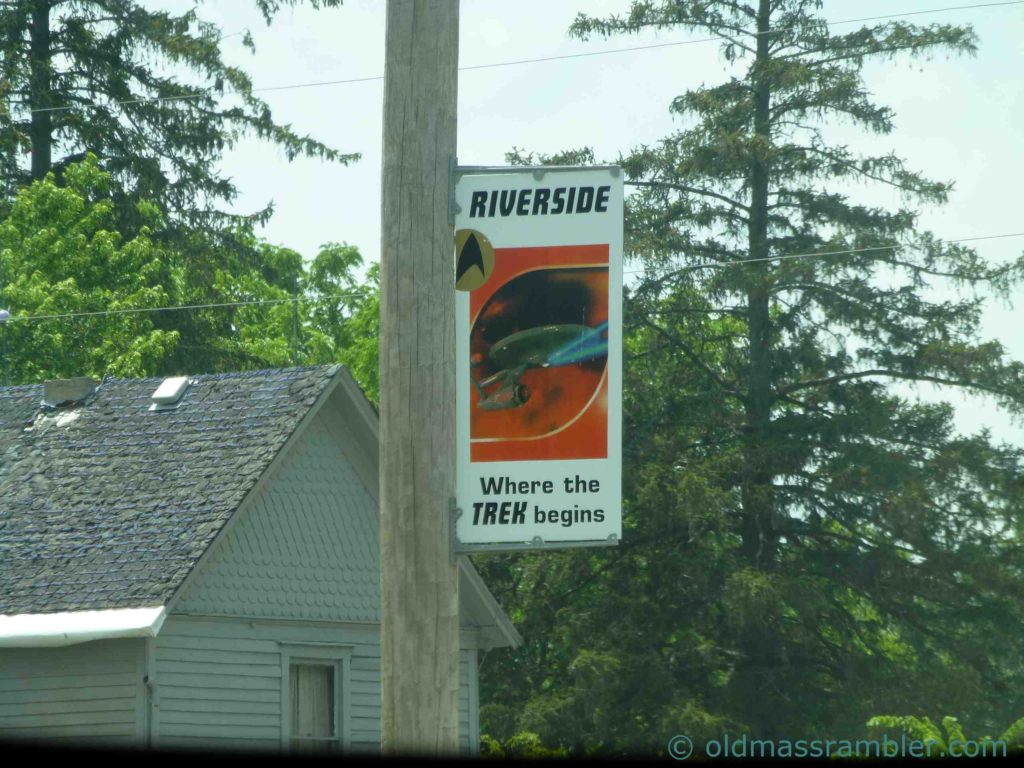 James T Kirk: "No. I'm from Iowa.  I only work in outer space."  Star Trek IV: The Voyage Home
An enterprising Star Trek fan convinced his town to pass a resolution to become Kirk's future birthplace and to change the town slogan from "Where the best begins" to "Where the Trek begins"  The rest is (future) history.
When looking for sites to stop on our trek west I knew Kirk's future birthplace had to be one our stops.  When we crossed into Iowa, we were on route 61 and passed massive farms that made our friends farm in Michigan look small.  Stopped in Nichols for a lunch at Newts Cafe.  The owner talked to us and said she loved our accents.  Yep we are far enough out west now that people think we talk funny.
We entered Riverside after passing the casino and immediately noticed the Star Trek signs on the poles and pulled over for a few pictures.  As you make the first turn near the center of town do not drive too fast or you will drive by the Voyage Home Museum.  It is in a store front in a small strip mall.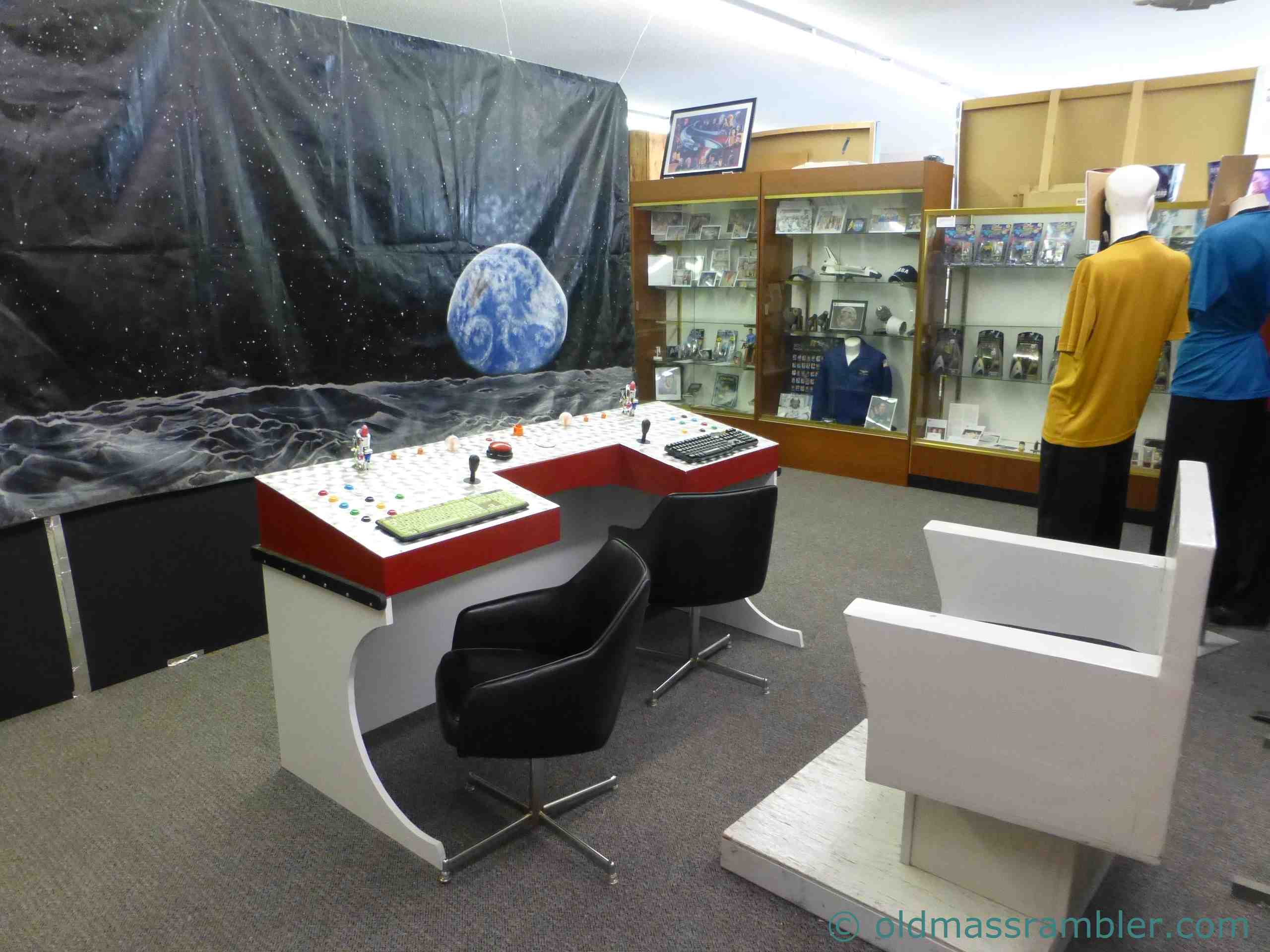 Ok let me state up front: this is a campy, B-rated attraction – and worth every penny (it is free).  But it is also one of the funner attractions we have stopped at (Mrs Ram -I tried to correct "funner" but Mr. Ram wouldn't let me!).  There are articles on the wall, books on the shelf, and cardboard cutouts you can take your picture with.  There is a bridge console that does not look at all like the Enterprise one but I am certain will be fun for kids because you can push ALL the buttons and energize lots of light and sounds. (Mrs Ram – Yes, Mr. Ram and I played with it. Mr Ram – I was testing, not playing)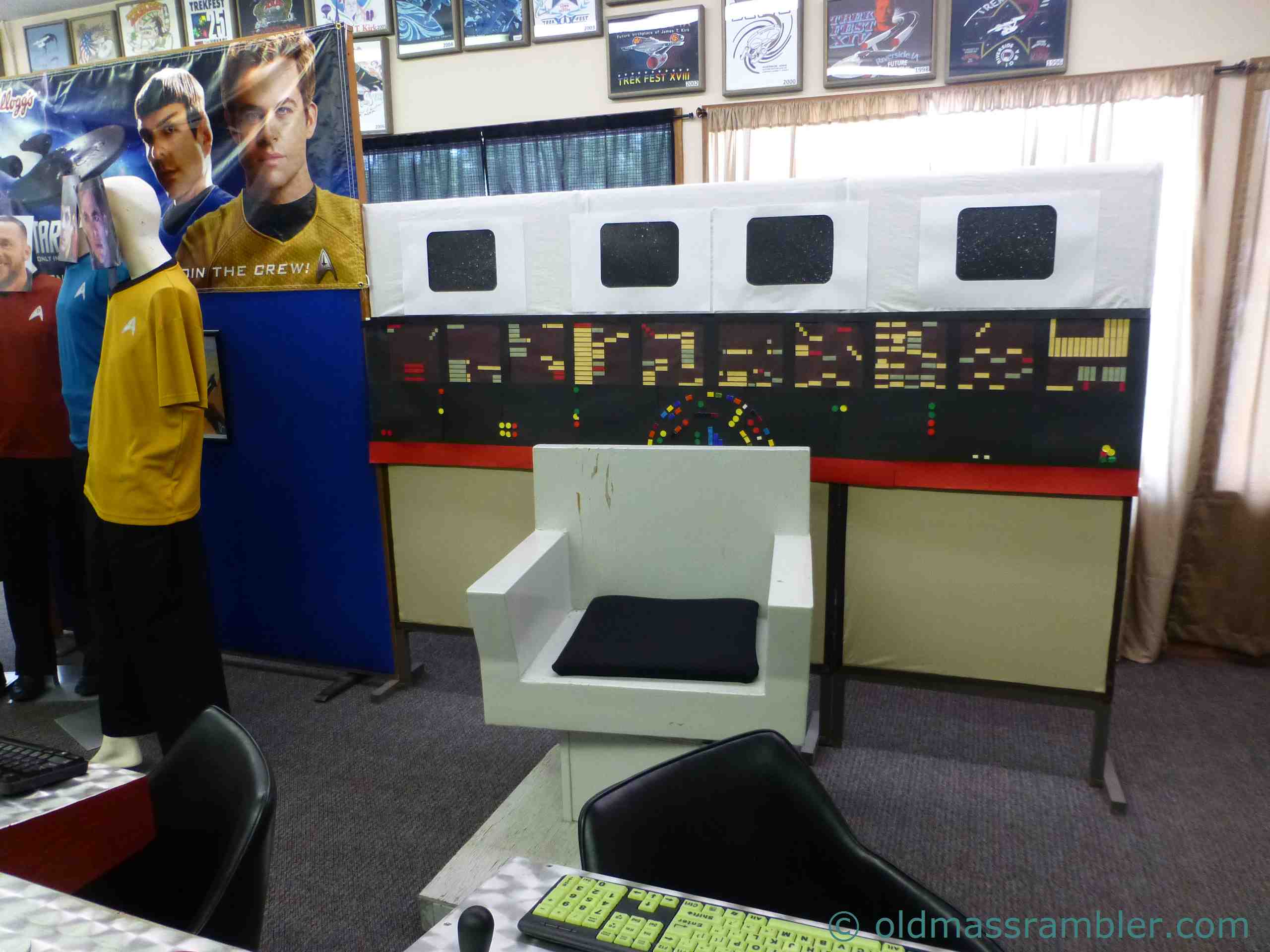 The highlight though was reminiscing about Star Trek and Captain Kirk with Mike, Carol and that other guy whose name escapes me.  We talked about the series and which movies we hated.  Also about the "new" time line which has Kirk born in space but grows up in Iowa (exactly where is that cliff that he will drive that car off?)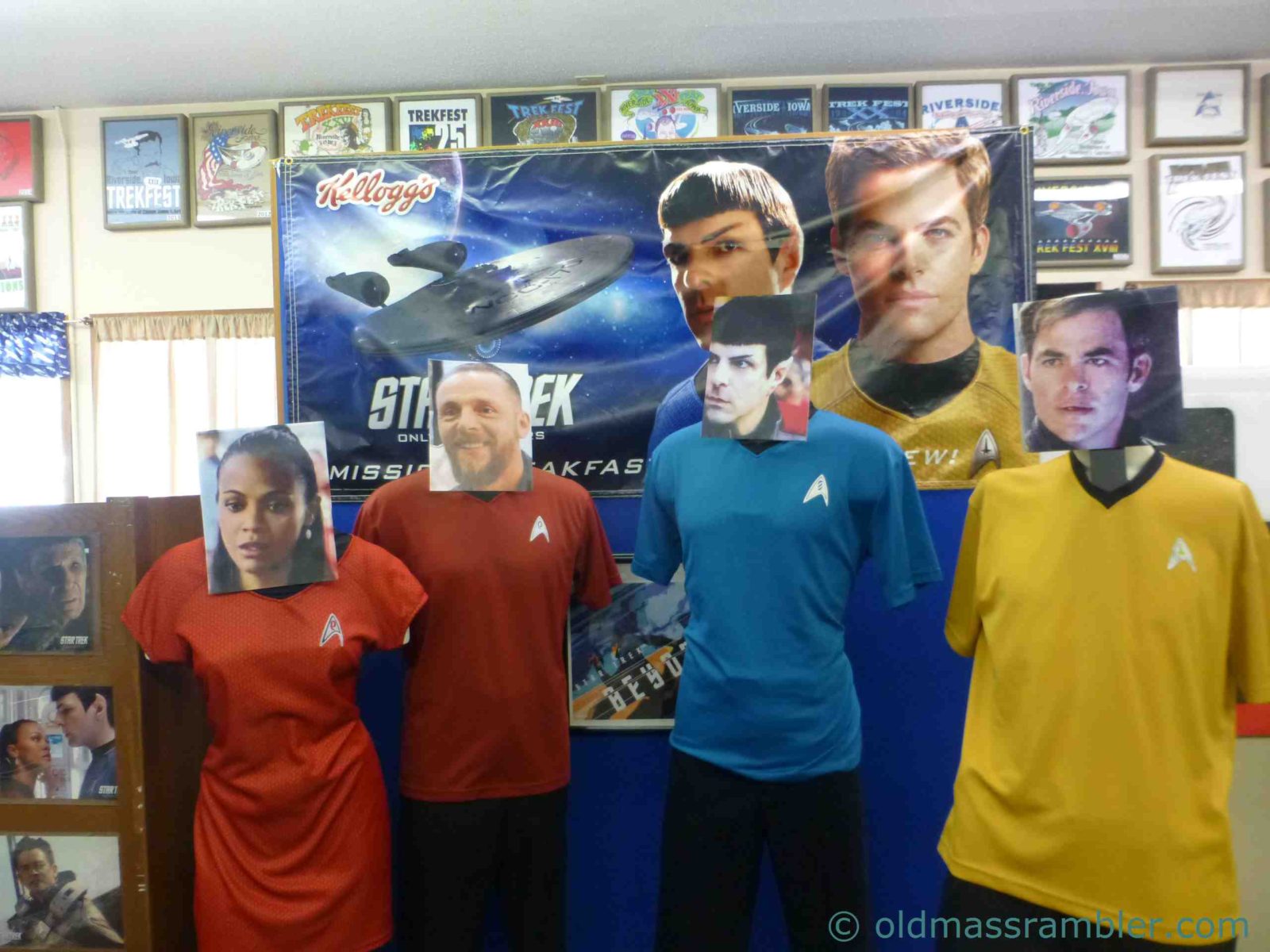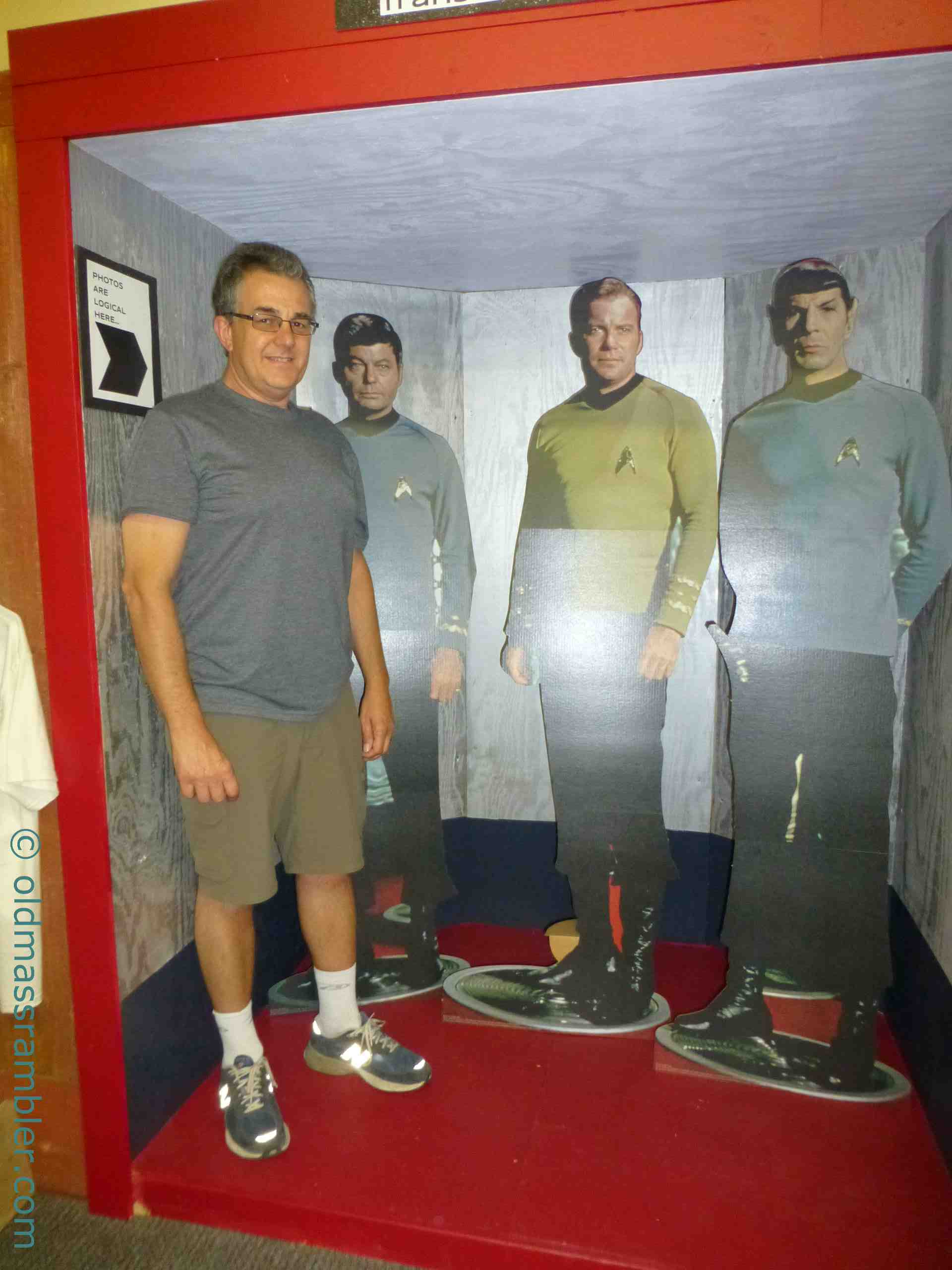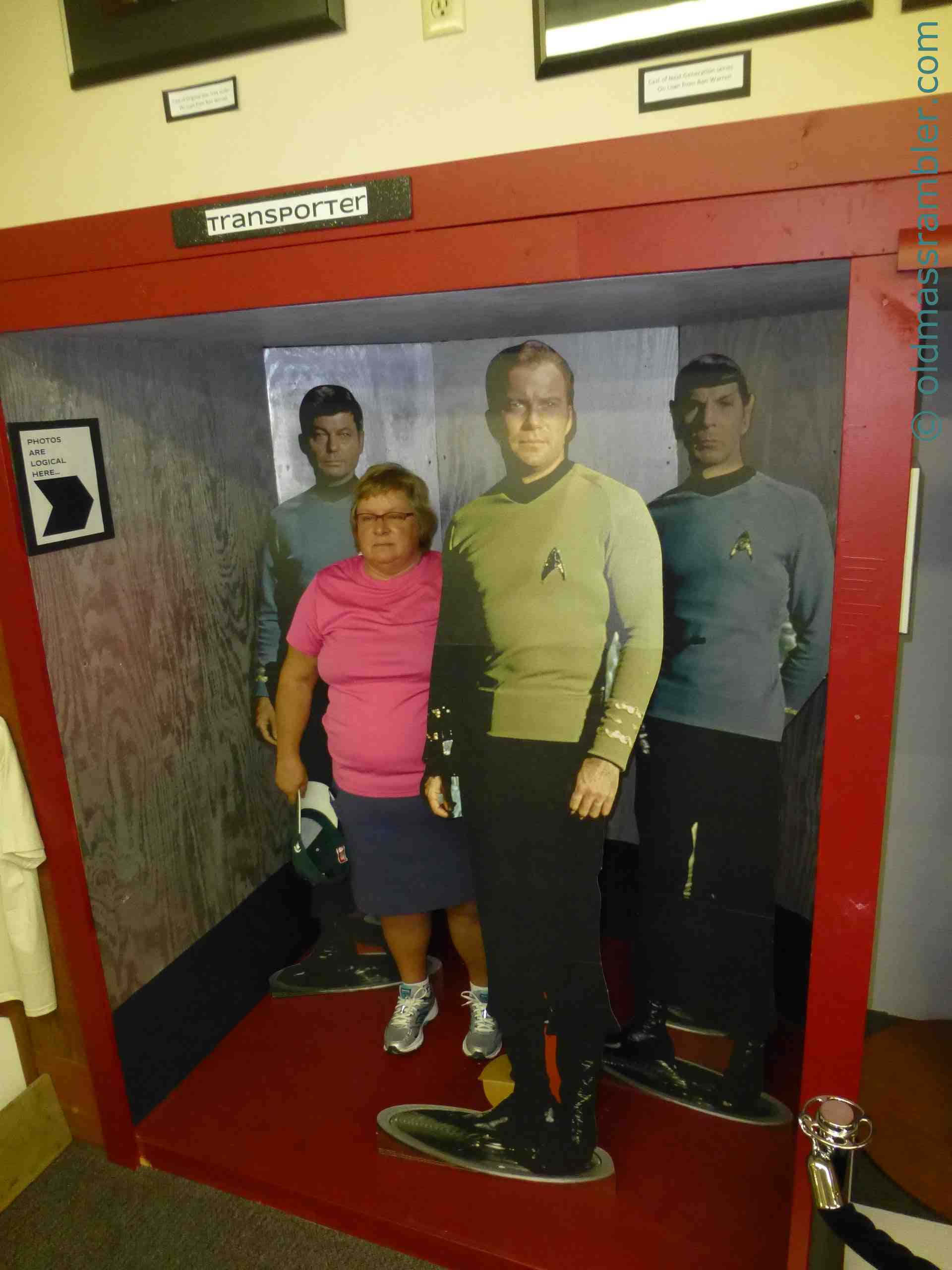 We stopped at the monument behind the bright yellow hair salon and checked out the plaque in the bar – if you want to know what the one in the bar says you will need to go to Riverside – or buy me a beer and I will show the picture.
While at the bar we had a great conversation with the woman who made the insignia patches we bought at the museum.  She told us all about her float for the upcoming Trek Fest Parade while another male resident said how corny it all was and thought we were all crazy. Her float is about Pacard's life changing experience in the episode where he learns to play the flute and they are throwing out candy and plastic flutes.
Sadly we were over a week early for TrekFest., which is 6/23-24.  We expect to be in South Dakota or Utah by then.
Would I have traveled 1200 miles just to see this?  Probably – but some would say I am nuts. (Mrs Ram – YUP!)