Our plan was to use the camping stove and gear we had used for years when we car camped.  Some aspects of that gear seemed just right such as the two burner, propane Coleman stove.  Others such as the large bowls, pots an fry pan and did not seem right.
Our old Coleman stove gave us two burners that we could inside or or outside.  It already had a few battle scars from years of camping.  It picked up a few more when the wind at Sage Creek.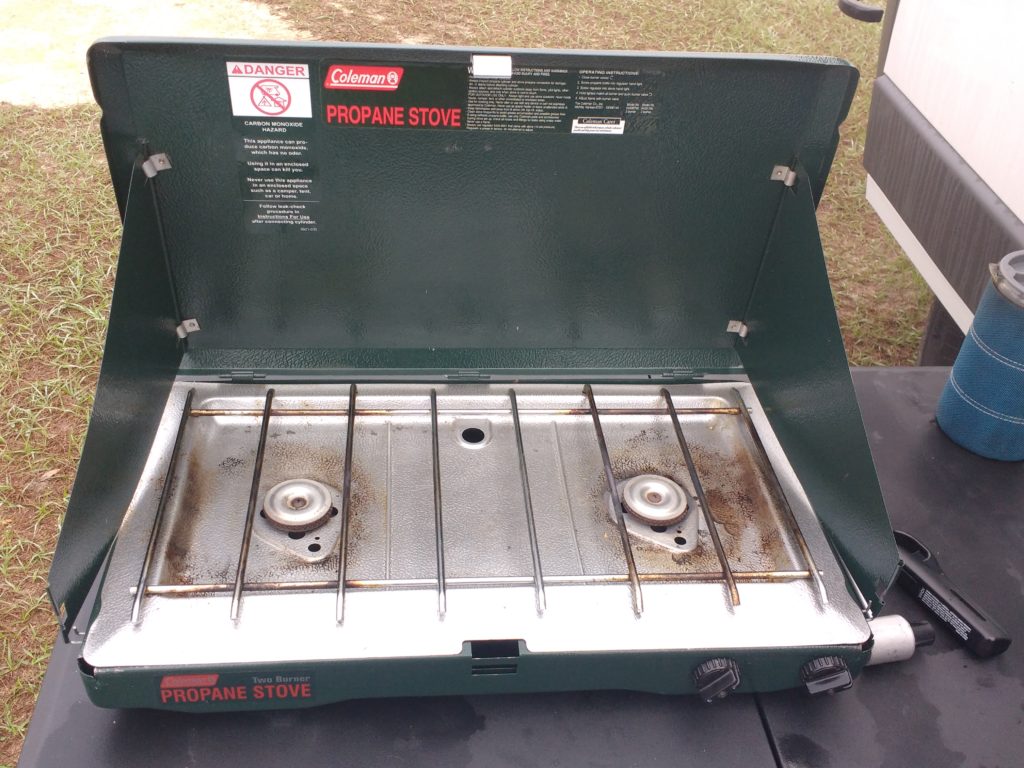 Most of our kitchen stuff was in two boxes – one large and one less so.  That large box had lots of cool things we had used or we might use or is just nice to have.  Every time we cooked you had to dig through to find whatever it was you wanted.  Every few days one of us would vote something out of the box.  Sometimes an item would make it back.  No matter how many times I voted that Ove-glove out, Mrs Ram voted it back in.
In the end we went for several smaller boxes.
Cooking box
Eating Box
Coffee and Tea Box
Liquor box
Other Box
Cooking box gets pulled out with the stove
Backpacking Pot set with oveglove inside
Propane cylinder
Hot mat trivet
Cover for fry pan
Bag with cooking utensils: spatula, spoon, knife, can opener.
Small paper towel roll
We looked for smaller and simpler items to replace once that we started with.  Our original spatula was huge plastic one.  We replaced it with a smaller metal one and then an even smaller folding one from REI.
Our original can opener was a large and easy to use Kitchen Aid.  Walmart's cheapest can opener was also the smallest one we could find with a twist handle and no magnet.  (The magnet on our original one would lock onto the pots and metal things and caused a few spills)
Note that the light was originally in this box but we now tuck in under the grate in the stove.
Eating box has things we need to eat as well as a few cooking items
Plates (2)
Bowls (4)
Utensils (2) forks, (2) knives, (2) spoons
Salt, pepper and Tabasco
Spice box
Olive oil and balsamic vinegar
Cup measure
Water Spray
Coffee and Tea Box
Camp Coffee press
Plastic spatula to clean coffee press
Dunkin Coffee
Packest of hot chocolate
Large bag of British Blens
Smaller bags of other tea
Liquor Box
Several bottles of Liquor
(2) glasses
Other Box
(2) extra propane cylinders
Books