Mrs Ram purchased this book in Valentine, Nebraska. She read it and passed it along to Sue at Metcalf Ranch in Montana and sent me a note about the book for the blog.  At the time I was struggling to keep the blog even remotely up to date and this was lost in my inbox.  Now it is found and ready to read.
====================================================================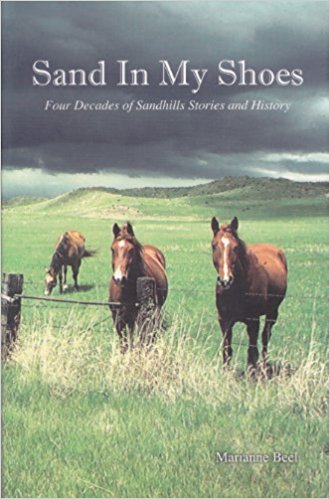 I had run out of stuff to read and was hoping to find something relating to our travels. I stopped by 'The Trading Post' in Valentine center hoping that there might be some actual book trading there.  Sadly it was just a small book store with some books that seemed quite pricey.  The sales girl was not overly friendly but the book looked intriguing so I bought it.
Sand in My Shoes is a collection of 'day in the life' type articles Marianne Beel wrote for the local newspaper.  It was fun to read about Merritt Reservoir and McKelvie National Forest which we passed and stayed at in that order. She gave a great overview of what life in the Sandhills was like and she definitely loved those hills and the people she shared them with.  The extreme winter weather she experienced and wrote about is enough to get me flying south in a hurry but it didn't seem to faze her.
This book is great reading because it was actually a collection of short articles.  I could pick the book up, read an article or two, and put it down at the end of an article.