Jackson hole had one of the things that we really wanted – a shower.  The Recreation Center is open to the public – even tourists and for a small fee of $7 we both were able to take long hot showers. In this case if we were just a bit older we would have qualified for the senior discount.
On the way out we asked if we could leave our van Sparty in their parking lot while we wandered around town.  He said that was fine and off we went.
We stopped in several art places: some where good while others disappointed.  We were surprised that none of the artists were local.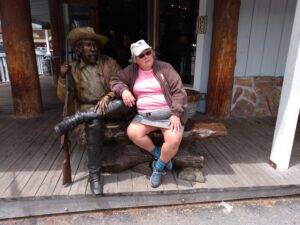 We checked out the bar seats at the million dollar saloon.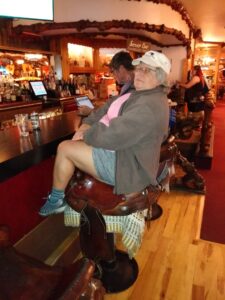 However the drinks were pricey and we ran into fellow Massholes who decided they needed to argue with us about…I actually cannot remember what.
Unlike the outfitters in Casper, JD High Country Outfitters had lots of hunting, fishing, camping, back packing and shooting gear.
We once again waited too long to eat lunch so when we stopped at Pinky G's, we ordered a large pizza with extra toppings.  By the time we had eaten half of it we were already over full.  The rest of the pizza made a great breakfast the following day.
And a stop in Jackson Hole isn't complete without a picture on the green.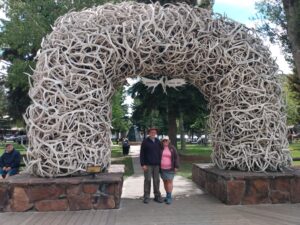 Yes those arches are made from antlers.