We had intended on visiting the Grand Tetons years ago right after Yellowstone but something came up and we bypassed it and went on to Glacier.
This year it finally returned to our itinerary. We started planning for out trip there less than a month before we left. National Parks are always a challenge to get a spot and if anything it is worse since Covid.  Unsurprisingly the park campgrounds were full. Also a number of the forestry ones were closed and the few other campgrounds left with sites were either very expensive or unappealing.
In previous years we could come up with a plan and seek out the first come sites. Covid has done away with most of those sites now requiring a reservation at recreation.gov.
Mrs Ram was persistent and she eventually found us 3 nights at Gros Ventre at the southern end of the park and 4 nights at Headwaters at the northern end.
(Pronunciation of Gros Ventre? Its not Gross Ventree like Mr Ram was saying)
The Gros Ventre site was near the bathroom and flat.  Pleasant enough but not inspiring.  From the only picture we took there its clear we thought of it more like a parking spot than a campsite.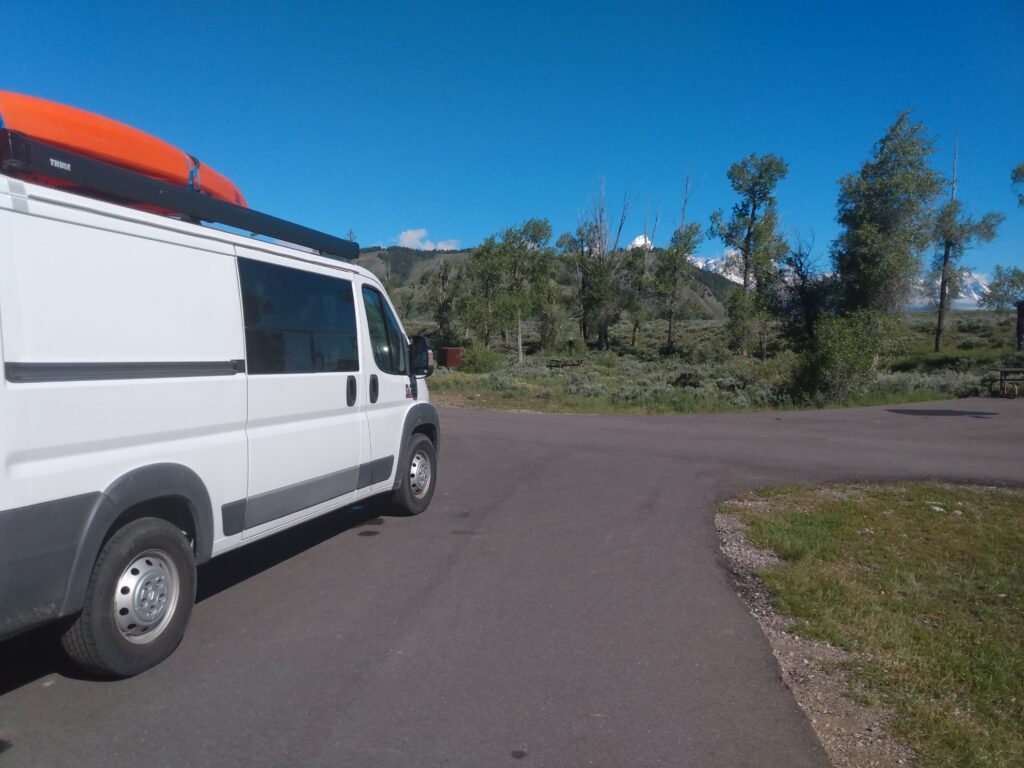 Just like a parking lot, we really did not get to know any of our neighbors.
The section of the campground we were in had no electricity so people could run their generators from 8 am to 10 pm. Fortunately everyone had fairly polite generators. None were like that one at Two Medicine.  Travel trailers had Hondas or Harbor Freight Predators external units. Class A motorhomes with built-in generators were the loudest.
The only down side to our site was that the path to the bathroom went right through our site. Similar to the one at Two Medicine.
At Headwaters we were at the northern edge of the Tetons.  If you wanted one campground to see both Yellowstone and the Tetons, this would be it.  Of course when we were there, Yellowstone had been closed for a few weeks from damage caused by flooding.
Our site #507 at Headwaters had electricity and gave us more of a forest feel.  More importantly, it had showers.
And having full hookups meant we did not have to listen to generators. That made it quieter right? Sure… except for all of the RV A/C and heating units that were running.
We enjoyed meeting our neighbors in the 31′ trailer next us. Martha had recently taken early retirement from the Coast Guard, forced out by the Covid vaccine mandate. Her husband Patrick was originally from NY but had come to his sense and now lived in Alabama
We enjoyed sitting around the campfire with Patrick, Martha and their kids.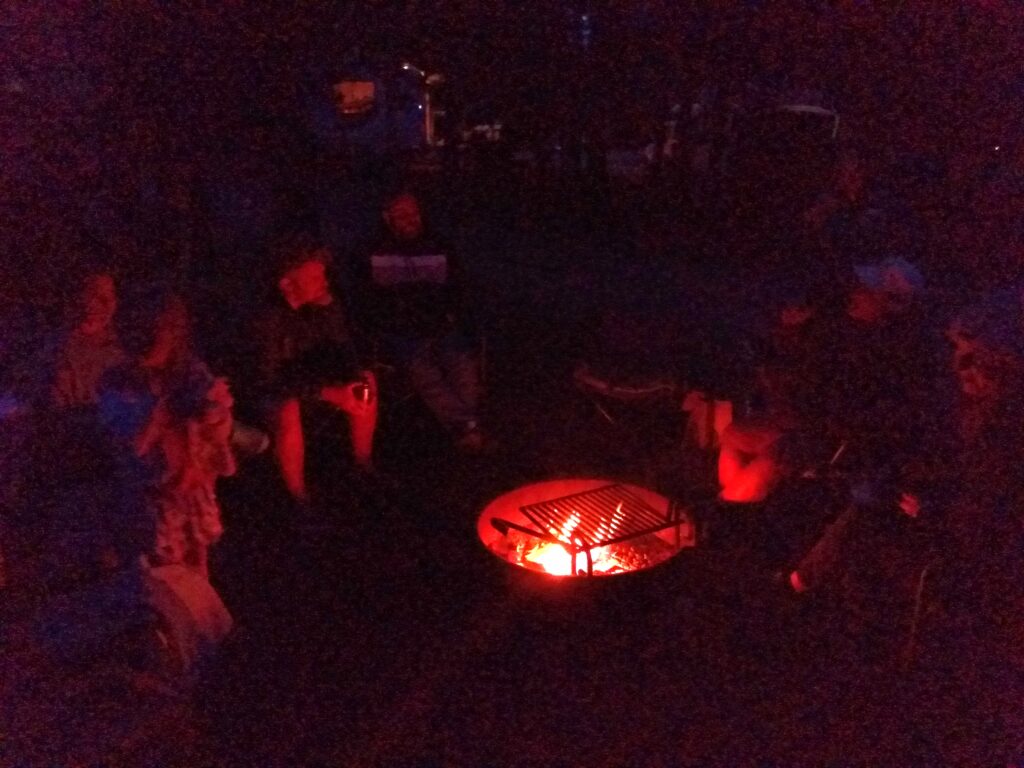 We also met other fellow campers at that campfire, Brandon and Annette from Kansas.  Eventually Mr Ram had to ask Brandon how he felt about all of the attention his name was getting.  Being a well liked principal at a local school and non partisan, he had initially wondered what he had done to deserve all the positive attention.  It also became easy to outfit his entire family with shirts that cheer him on.
Gros Ventre was cheaper and closer to Jackson Hole.  But we had a more enjoyable stay at Headwaters.  If you have to pick one place to see Yellowstone and the Grand Tetons, I would suggest the Headwaters Campground.