Though we planned many aspects of how we would live while traveling, there were still lots of things that were not quite right when we started. We started out with more things than we should have because it was what we had. We also took things that were not properly sized for our living space. Our van Sparty was over stuffed .
As we traveled, stopping at thrift stores to get rid of a few more things was common. We also were searching for the right, smaller items.
Over time we have evaluated nearly everything that we carry with us.
LIQUOR
We whittled down our liquor cabinet to a couple of liquors we really like – essentially tequila and whiskey. Unfortunately, we like different whiskeys. Mr Ram's Jack Daniels bottle fit nicely in the storage box but Mrs Rams Jamesons was too tall. Simple solution – pour her Jamesons into an old Jack Daniels bottle.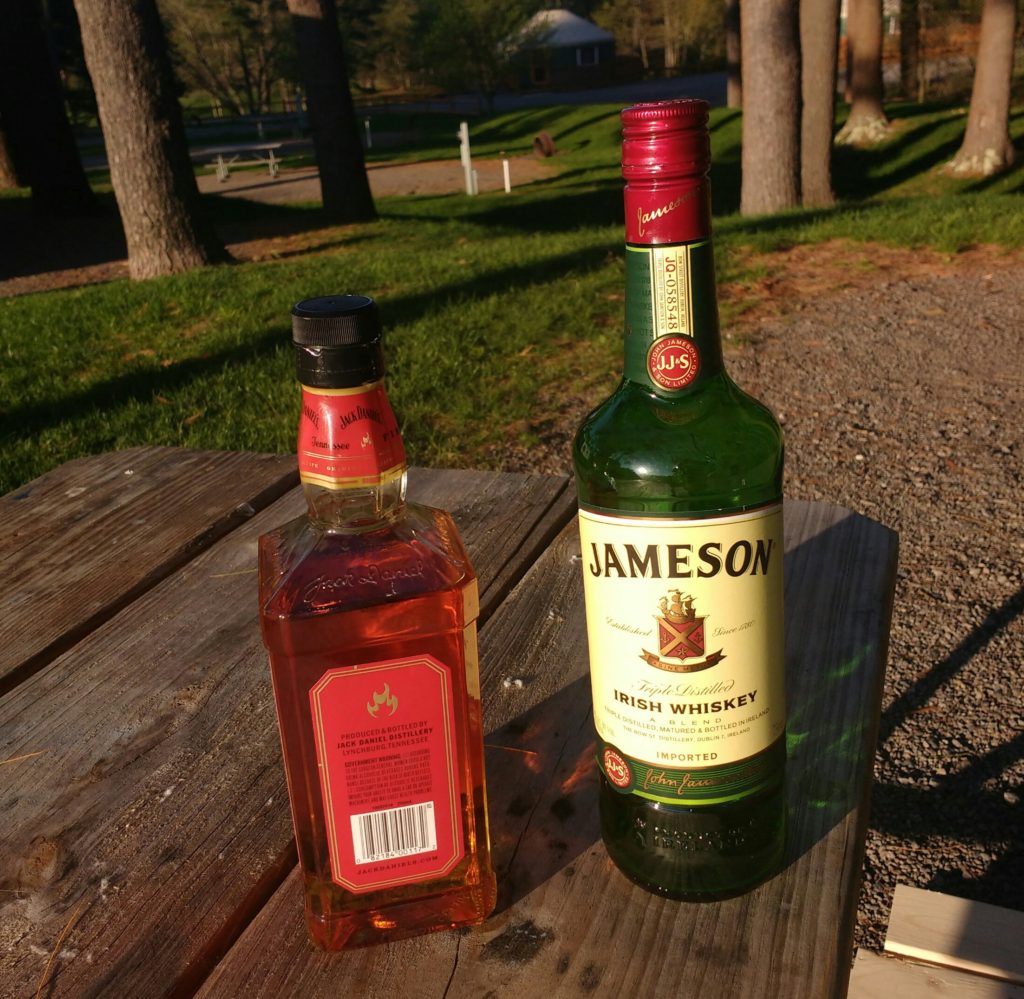 TABLE
Our small plastic table from Walmart was one that we have had for years before hitting the road. We had stopped at an REI and saw a similar table made by GCI that was larger when it was set up and smaller when it was stored.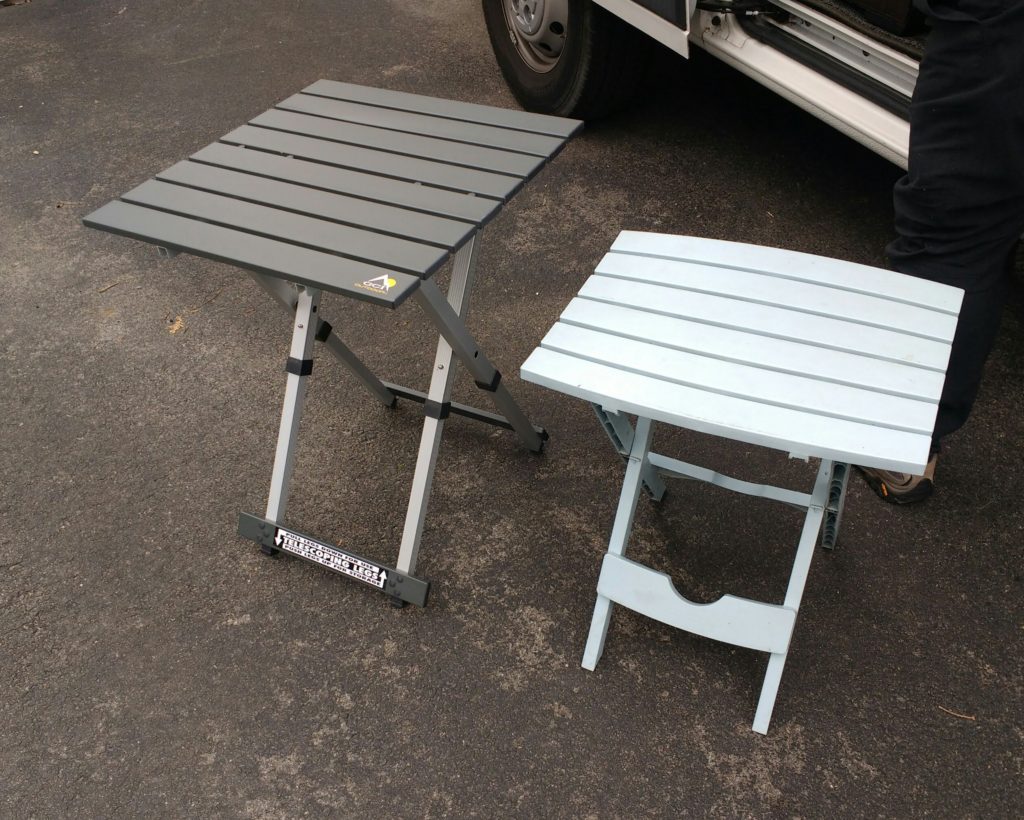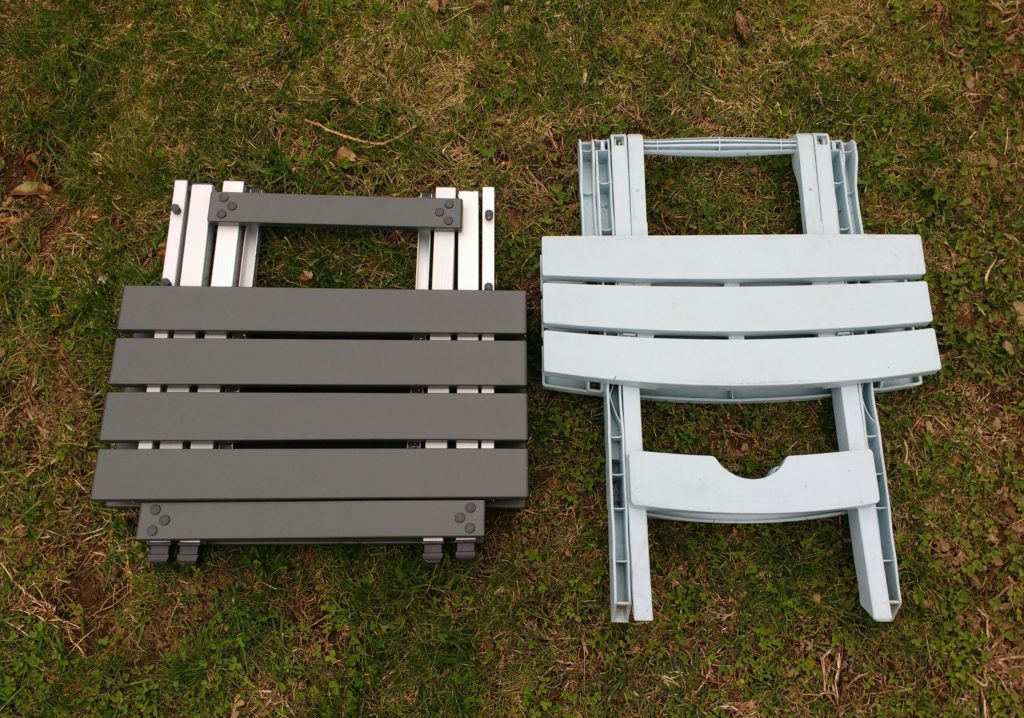 GOLF CLUBS
Yes we carry our clubs with us. We are an odd kind of minimalist. But those typical massive golf bags would take up way too much room.  These Sunday travel bags are easily packed in our under bed storage.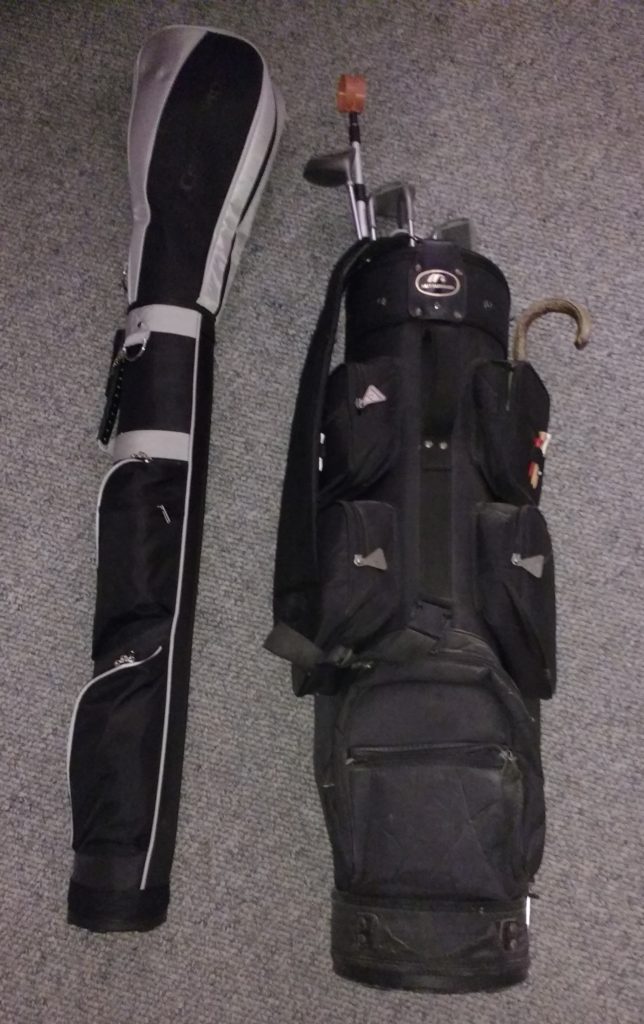 COMPUTERS
When we started, we both had big 15″ laptops and burly computer briefcases to keep them in. Ok, Mrs Ram's was pink but it was still big. She downsized to a 14″ computer and small bag. Mr Ram was not willing to forgo the large screen but did squeeze everything in to a smaller bag.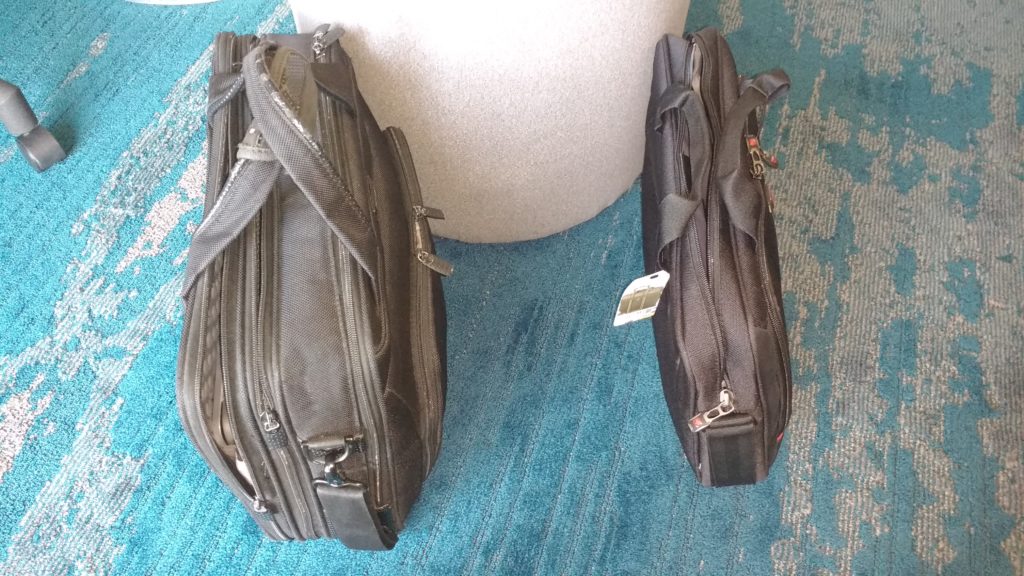 We have talked about sharing only one computer. Sharing nearly everything else has made both us somewhat territorial about those last few things that are not shared. We continue to have two separate computers.
TOOLS
When we first headed out on the road, the van was almost done but not quite.  We knew we needed to bring some tools with us. Also, you never know when you might need to fix or make something along the way.  During the first year of travel, we used more tools out of those three boxes we started with than we really wanted to admit. However three boxes took up too much space. Mr Ram bought one large tool box and worked at getting everything to fit. Anything we had not used was put in storage. Several screwdrivers were replaced with one with interchangeable heads. Eventually our tool kit fit in the new box…just.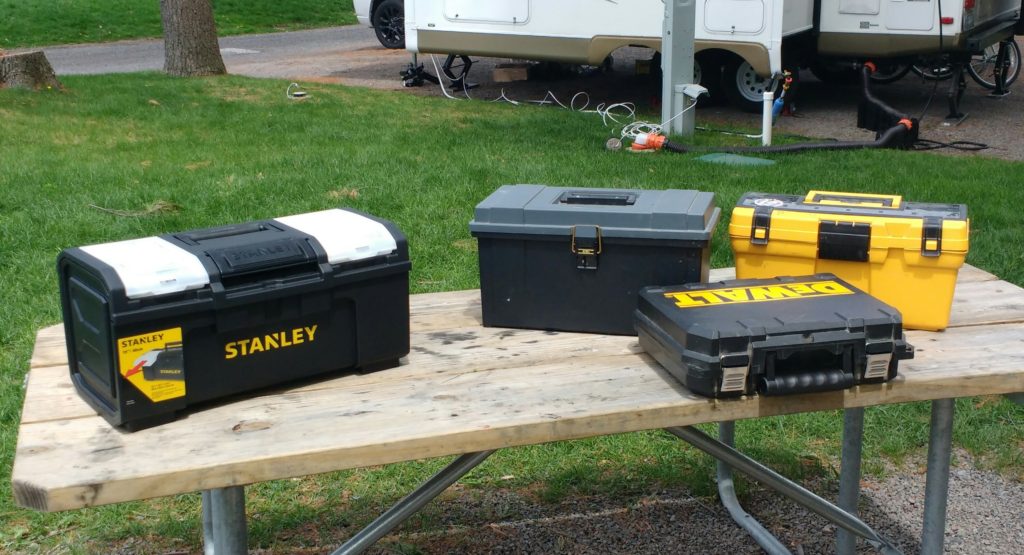 So what are some of these critical items that are in the box and why are they there?
Drill – It is an old fashion, corded drill that will run off of our inverter. Making holes in things like the new brackets for the shelf in the cabinet or the bracket for the awning would have been challenging without it.
Hammer – Never know when you might need to whack something.
Glue, screws and clamps – Because things break.
Tape measure and laser measure – Measuring things is usually the first step to fixing things. The laser measure? Its left over from Mr Ram's work surveying supermarkets. Yet is has come in handy trying to figure out if Sparty will fit in some places.
Panel levers – You never know when you might need to get in behind a plastic panel. In Pagosa Springs our slider handle stopped working and I need to get behind the panel to fix it. Ok I messed with it for a while until it started working again.  That counts as fixing it, doesn't it?
Wrenches, sockets and ratchet – Taking things apart or putting it all back together. I did get a ratchet that had 1/4″ on one side and 3/8″ on the other to replace two separate ratchets.
Voltmeter – Useful when trying to figure out why something electrical is not working.
Wire strippers, electrical tape, fuses, LED 12V light bulbs – Good for fixing those things that your voltmeter tells you are not working.
SUMMARY
Finding that right mix of having everything you need and having it all fit is critical to making your nomadic experience enjoyable. You should definitely think things through before starting your journey but should not be afraid to adjust along the way.